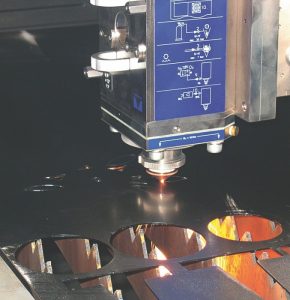 Rama SA is active in designing and producing a wide range of end-to-end manufactured metal products,  and in metal constructions  and sheet metal work fabrications  for many industry sectors and for buildings metal cladding .
Rama has a highly qualified technical staff , 40 years of experience and technical expertise, and  a state-of-the-art metal fabrication equipment . The company  is housed in a privately-owned industrial building of 3000 sq.m. , located in Inofyta , that enables them to fabricate almost any type and size of metal structure and product .
A Laser cutting machine with Fiber Optics Technology of 3KW Power for cutting metal sheets and tubes and A Laser cutting machine with CO2 Technology of 2.5KW Powerfor cutting metal sheets

Trumph Punching Machine for processing of metal sheets up to 6.5mm thickness .

Water jet cutting machine . It can cut materials up to 100mm thick .

Electrostatic Powder coating facility with roboting powder coating cabins and phosphating/degreasing baths to clean and precondition metal parts .

Other Fabrication and Forming machines:

CNC Pressbrakes for fast and precision bending , CNC shears , bending/forming machines , welding machines for all types of metal , and various other cutting , forming and finishing machines .
Laser cutting

Punching

Bending/ forming

Electrostatic powder coating

Metal welding
MECHANICAL DESIGN DEPARTMENT
Our experienced team of engineers undertake 3D -CAD design and development of integrated constructions, metal parts and finished products  to the customer's requirements and specifications.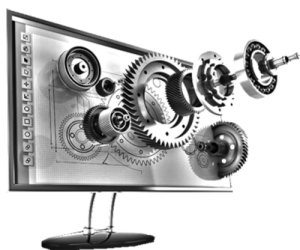 INDICATIVE PRODUCTS and CONSTRUCTIONS
Special constructions and accessories made of stainless steel, brass, steel and other metals , for Shop Interior (equipment – furniture and decoration for retail shops) .

Stands , signs , sign frames , columns , for advertising purposes .

Metal canopies , pillars and other steel structures for fuel stations .

Metal parts and integrated products for development and manufacturing of telecommunication systems .

Building metal cladding constructions and certified integrated marble fixing systems .

Steel and Stainless steel canopies for bus stations and other sites .

Stairs and Railings made of Stainless steel , steel and brass .

Special lighting fixtures , for hotels , shopping malls and industrial sites .

Metal products and constructions for a wide range of applications .